Without a doubt, this was one of the most enjoyable January editions Africa Night Tilburg of the past few years. Normally in January the weather is shitty. People are just recovering from the expensive month of December. Some always have a new year's resolution not to go out dancing. So normally, January is the month that things start slowly. That was our expectation. Of course many who are regular customers would have noticed some slight personnel changes during this edition. That was why we thought to make the personnel changes in January. So that the new crew members have a chance to get their juices going! But like we wrote in the previous blog, some of them are permanent, some are just temporary. Africa Night Productions would like to say a big thank you to Sanne & Lisa for doing a great job at a very short notice. Thanks ladies!
However as those who came can testify, it was not a quiet night at all. What it was, was a very enjoyable night. It was a night when the dance floor was constantly full. It was a night when there seemed to be different music lovers in the house. It was a night when no matter what the DJ played, people were on the dance floor. It was not just the music. It was the atmosphere. It was not just the old Africa Nighters, it was the new Africa Nighters.  It was not about the individuals, it was about the guests as a whole.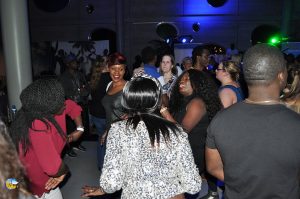 If you were someone who last came to Africa Night Tilburg let's say, a year ago, you might not even recognise ¾ of the people present during this, the January edition. There were so many new faces, so many news vibes. Africa Night is getting renewed every month. Word of mouth is making Africa Night reach new cities and peoples every time. We are glad that people come in, not knowing what to really expect. We are even happier when people leave at the end of the night, with a big and satisfied smile on their faces. We are happy to make new friends. We are happy that the new Africa Nighters spend a few minutes looking around and then let their dancing feet do the rest of the talking the rest of the night. Africa Night is after all the place to be. It is not just about the music. It is about the ambiance.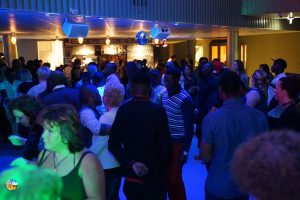 Finally, just before the January 2017 edition of Africa Night Tilburg began, the organiser got a life changing call and a text message. It was the kind of call or message you knew was going to come someday but it was one you are always never prepare for. Coming just a few minutes before Africa Night Tilburg began was the worst possible timing. But as organisers, we were able to pull off a great show without letting the personal affect the personnel. Only one Africa Nighter knows the story behind this story because we showed her the text message. But the show went on like nothing happened. We were, we hope, able to put a big smile on the faces of many. And in spite of the message that threatened to derail this edition of Africa Night Tilburg even before it began, we went home with a big, bright smile on our face too. For that we are grateful to all Africa Nighters.
Please join us every last Saturday of the month also for Africa Night Rotterdam. It is totally a different vibe there. It is a different environment and a different setting. It is very cosy. It is worth giving a try!
Chilling to the P-Unit and Collo's old hit You Guy (Dat Dendai)

Geplaatst door Africa Night op Zondag 22 januari 2017