So let us start from the beginning. It was a great party. It was a great way to start a new, (and hopefully) full year of Africa Night Belgium. Okay, that was not the beginning, that was the conclusion! However, there was no way we were going to begin this blog without having to state this obvious fact!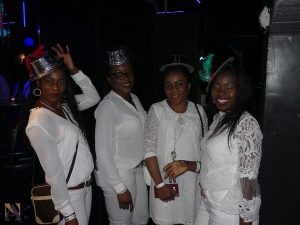 So now you know what the conclusion is, let us go on with the rest of the blog. It was a spontaneous decision to have "All-White" as the dress code for this January edition. Looking back now at the waves of white punctuated by some black and other colours, it was an inspired choice to start 2018 with the white dress code. There were so many shades of whites and people looked really very beautiful. We are so proud we could call all of you our guests. You are wonderful and so many of you brought your dancing shoes. But it was the killer smile and the positive vibes that you, the guests, brought that was really heart-warming. If this is a sign of things to come in 2018, then we are all in for a great musical trip!
And then the white guy stole the show! Sometimes we read the comments on our videos on Facebook and Youtube and we feel sad at some of the haters and negative people. We must say at this point 99% of the reactions are always positive but there are a few backward-looking people who just love to hate! One of the most common are people questioning the composition of the guests of Africa Night. Like  "You cannot call this an African party when half of the people present are Europeans!" Or, "the music is not fast or new enough!" "The people are not all very young!" Most of these comments are always from people of African heritage.
A glimpse from Africa Night Belgium January 2018 edition. As long as you bring your dancing shoes and a big, friendly smile, you are always a star at Africa Night!

Geplaatst door Africa Night Belgium op Zondag 7 januari 2018
Now here is the deal; when we started Africa Night in 1998, our plan was to introduce African music to Europeans. Meaning, the kind of music we play in our discotheques in Africa and not the Djembe, tam-tam music which everyone knew back then. 20 years later we should be celebrating the fact that the white people have embraced our music and more! We should not be hating and think if we call something Africa Night, it is meant for only African people! And if you know your English very well you will know that African is different from Africa. We will leave the negative people to go and figure that out. So when a young white guy took over the floor at Africa Night in Hechtel this January, we were happy at how far African music has come. He did the Shoki, the Azonto and even twerked! When a group of black guys stand in awe of a white guy dancing to African music, you know that guy is a great dancer! And then they clapped for him too! African music is universal! We embrace everyone who embrace it. Period!
The other one is about the tempo and age of the music. Every party has its own concept. At least that is what we hope for others who organise African parties too. Ours is always a mix of the old and the new. We want the young and the younger to feel free to come to our show and share the dance floor together. We, who have suffered discrimination at the doors of many a discotheque in Europe, should not be the ones that discriminate in subtle ways. We are rich when we embrace others. It is one of the reasons why many of those "Best DJ's in Holland and Belgium" don't fit into our concept. It is not about your dexterity in mixing music, it is about recognising that you are the DJ for people of a different mix. Those are the people who have made Africa Night stand out from others parties. It is the reason why in May 2018, Africa Night will celebrate 20 non-stop years of entertaining people. Beat that if you can!
We can't possibly end this piece without giving a shout out to the owners of ADIA where Africa Night Belgium takes place. They are two of the pillars of Africa Night Belgium. Not only because they provide us with a hall to entertain the guests but also because of the dedication they put in. Last Saturday is an example. The hall was really decorated for the occasion. We can only say thank you to them. This is more so given the fact that one of them was even sick that day but still managed to serve drinks the whole night. How dedicated can you be! That is the Africa Night spirit.
Last but not the least, please we would like to ask you to make use of the possibility to reserve your tickets online. It is easy and it is convenient. And unlike what some people think, you only have to bring it in your smartphone or make a screenshot of the barcode. (Of course if you print your ticket, it is also great) Also unlike other online tickets, you don't have to pay any extra "service costs". We already paid that for you! If you have other questions about it just let us know.
You are the guys who made the January edition great. Let us meet again on Saturday 3 February to have another great party. We can do this. Together we will do this! And there will be food again! By the way, let's meet in Tilburg for the January kick-off. Africa Night in Tilburg is every 3rd Saturday of the month. Let the music take control. You are always welcome at all times. Thank you all and have a nice day too.