First of all, our apologies to you for this delayed blog with respect to Africa Night Belgium in October. It was delayed because of developments beyond our control. We got the unexpected news that Hechtel was no longer going to be home to Africa Night Belgium right at the end of the October edition. Some stuff happened during and at the end of the evening that led the owners to take the decision. And even though, as it has now turned out, this was totally based on a clear misunderstanding of the situation and our intentions, we had to accept the unexpected and move on. Life is sometimes not fair. There have been people who have been executed for crimes they did not commit. Gone forever. So you have to put what happened in perspective. Nobody died. Life goes one. The important thing is to move on without bitterness. We have always treated our hosts and guests with respect. It is in our DNA. We will continue to.
We must admit though, our first thought after this news was to say "bye bye Belgium". But this thought stayed maybe 4 seconds in our head. We have been in Belgium for just over a year and in that year we have built a solid relationship with the majority of the guests who come to enjoy themselves. We did not want to let these people down through no fault of theirs. In spite of the tension at the beginning, Africa Night Belgium has been settling down in the past months to how we wanted and pictured it to be.
Once we decided to go on, it took one WhatsApp message to confirm that we had a new location! We knew already on Sunday where Africa Night Belgium in November would be held!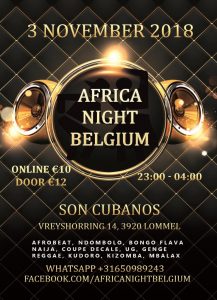 We could still have written a blog on Monday as usual but we felt it was necessary to take a couple of days away from everything and reflect. Plus it is never a good thing to react when in shock, disbelief, anger and a feeling of injustice. After all, we have had mostly good times in Hechtel. One wrong judgement call by a third party does not change the fact that people are fundamentally good. But if we wrote a blog on Monday, it might be that we would have written an emotional piece which might be good to read but might have hurt people we never intend to hurt. As it turned out, it was a good thing we did took a break. Because now we know why those who decided it was the end of Africa Night there did what they did. We can close the Hechtel door now with pride. In spite of all, we have a deep sense of gratitude that we could start the Africa Night Belgium journey there. Thank you. No hard feelings! Sayonara!
Son Cubanos, Vreyshorring 14, 3920 in Lommel
The distance from Hechtel to Lommel is a short one! The moving bus is here! We are moving to Son Cubanos, Vreyshorring 20, 3920 in Lommel, Belgium from Saturday 3 November. We are very excited about this new location. The hosts are friendly and cool. We are excited about the next phase of the Africa Night Belgium journey. Watch out for a video about the location and how to park your car etc!
See you on Saturday 3 November in Lommel! There will be food!