This is a short history of the birth of Africa Night Belgium.
Come to Belgium they said. Please come to Belgium they repeated often and often. So we tried and tried for several years. We went to check out various halls and always, there was a stumbling block. Mostly we were looking in the 2 obvious places. 2 cities that looked "logical" if one was going to start a show like Africa Night. We were looking for suitable halls in Brussels but mostly in Antwerp. For years we searched but could not find. Then a couple of years ago, a lady told us to check out Hasselt. Because of its proximity, Hasselt would be ideal for people living in Belgium and those living in the Limburg region of The Netherlands. So we went to check Hasselt out. But the same week, we saw a post on Facebook that a group of guys were organising a kind of a regular African party in Hasselt. Although we could see that it was slightly different from what we do and how we do it, we had no choice but to revert back to one of our founding principles. This principle is never to compete with a fellow African in the same city with the same kind of concept or show even if it has remarkable differences. It is better when we support each other (even if it is in subtle ways) than to divide our resources. It is not like some others make the same considerations with us though. But at the end of the day, we can only be who we are and not do things because others are doing it. So we let Hasselt be.
Unfortunately like many other African initiatives, even the party in Hasselt stopped after a short while. We were told some of the reasons. They are the usual reasons so you can fill in the gaps yourselves. That was about 2 years ago. But by then, our priority had slightly changed. Belgium was still on our mind but some other things came up that urgently needed more attention.
Meanwhile, the Belgian contingent to Africa Night Tilburg kept growing. Even to Africa Night Rotterdam they came. This meant some of them driving more than 2 hours of to and from Rotterdam. Meanwhile they kept asking when we were going to drive the Africa Night train to Belgium and we kept hoping we could promise them something. But we could not! And then there was this lady who started coming to Africa Night Tilburg in January or February this year, 2017. In her subtle but persistent way, she told us to come to Belgium. When we asked where, she said Hasselt! We were at first hesitant but she gave us a million reasons why it was a good idea. Of course we already knew those reasons. Once she and some of her friends said they were also willing to help in other ways however, we decided to give it a try.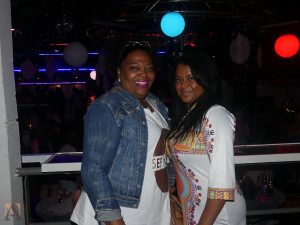 So we went to Hasselt and spent the whole of that Friday night checking out halls and places that would be great for Africa Night. We should point out that in selecting a good hall, we always follow a fixed set of criteria. Is the hall affordable? Is it reachable and can people park their cars freely? What are the opening times? Who is the owner and what are they like? And many more criteria which we won't write here because they are "trade secrets" 🙂 However in the end, there is one cardinal rule we always follow. Our heart! Even if all of the other criteria have met and out heart says no. then we don't do it! The few times we have let our head speak instead of our heart have always ended up in tears. So we actually found a couple of places in Hasselt that met all the criteria but our heart said no!
So at around 2 am, we decided to call it a day and were heading back to our hotel to sleep and the lady was heading back to her house. At least we could sleep with a clear conscience knowing we did our best. We were tired and a bit disappointed but that is a part of investment. It is a bona fide part of doing business. You fall 10 times but rise 11 times. We were ready to scratch off the Limburg region Belgium from our list when the lady said suddenly, "I know a good hall in Hechtel, let's try it!" We were like "Hechtel? Where the hell is that?" We have never heard of it before. We told the lady, no please. We need to sleep. But in her subtle way, she insisted. Hechtel was just 20 minutes away. We gave in and the rest is history.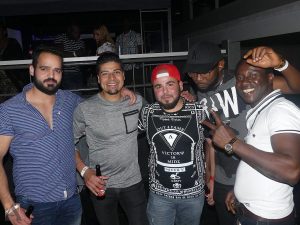 Even though ADIA (De Ark) did not meet all of our requirements, even though it was in a small village, even though when we went inside, there were only about 20 people in the discotheque that night (and that could be really discouraging) and even though one could hardly understand half of what the owner was saying because of the music, once we went inside, the heart said "listen, this is it! And we listened!
We have so much to write about the opening last Saturday but after reading all the texts above, we want to spare you the time of reading more. The pictures and the videos speak for themselves. The warmth and love that everyone showed was overwhelming. Earlier in the evening, the owner of the hall was saying he hoped there would be more than 100 people which would be a great way to start. Based on our own experience, we felt like anything above 70 would be a wonderful start. But that was our head taking control again. In our heart we already saw the signs that it was going to be a great night. We knew and felt it but our head was the boss. Temporarily!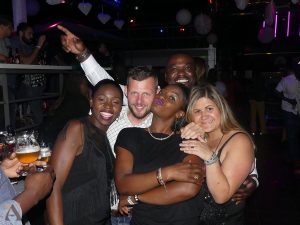 To cut a long story short, this first edition of Africa Night Belgium was the biggest opening night ever! People kept coming and coming. The amount of goodwill on display was remarkable. Belgians are strange people compared to the Dutch. They are very thankful and humble and it was as if we were doing them a big favour by being there! Of course you are the ones doing us a big favour by coming to our show. You don't have to come but you did and made us feel happy about ourselves. You guys know how to party! You came early (the hall was already half full after 30 minutes) and you stayed till the end and you even wanted more! The DJ had to do an encore which he had never done before!
Never mind that we had a long 2 hour-drive back home and that we got home at 7:30 in the morning. Never mind we finally made it to our bed at 9:30. We would have given anything to have witnessed that one night in Hechtel. The joy in your faces will stay forever in our minds. We thank you all and hope we will continue this journey together for a long time. 7 October is our next date. Let's meet there. The dance floor is waiting.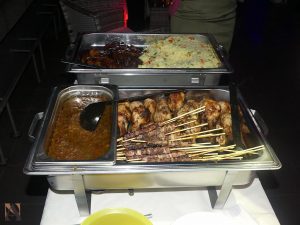 We thank you all and those who missed this opening edition, what a pity that you would not be able to tell your grandchildren in 70 years, you were there when Africa Night Belgium started on 2-9-2017! It has been a long journey to get to Hechtel but we got there. At this point, we would like to give a big shout out to the key people who made this journey eventually successful. So special thanks to people like Lut, Katrien, Pascale and Petra! Petra it was who drove with us through Hasselt in the night and eventually insisted we checked ADIA out! To all who shared the news and the event on the social media, helped to spread the word mouth to mouth, who helped spread the flyers at festivals and other places, to those ladies that cooked, to the people who came from Holland to show us support, we owe you a debt of gratitude. Without you we would be nowhere. That is a fact.
The Africa Night Belgium eagle has landed but in 2 weeks the mother of all Africa Nights will take place in Tilburg as usual. So join us in Tilburg on Saturday 16-9-2017. Don't forget to bring your dancing shoes as usual!
In the end, there was an Africa Night Belgium!