As promised in our last blog of 2013 (you can read it here – africanight.nl/word-thanks) at Africa Night Productions we are introducing new things to Africa Night in 2014. This is to further entertain you and satisfy you. Starting with the January edition of Africa Night Tilburg (18-01-2014), we are proud to announce the introduction of a 2nd DJ to assist DJ Aziz; our regular for the past 5 years.
Our new DJ is already familiar with the ambiance and the ins and outs of Africa Night Tilburg. He is a regular visitor to our show and most of you may already have seen him. His name is DJ Sam! He is young and fresh. He knows his music and knows how to keep you on the dance floor! Above all, he has a mentality that fits with the Africa Night philosophy. He knows a dance night is not about the DJ but about giving the best to the clients who come from far and near. It is the same quality that has made Aziz the longest serving Africa Night DJ (5 years plus) to date.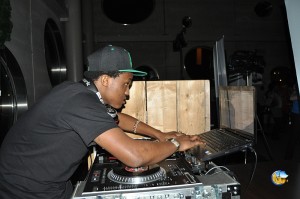 The duo DJ is a kind of West meets East thing. DJ Aziz is from the Smiling Senegal while DJ Sam is from the Beautiful Kenya. See this as an experiment to broaden the musical appeal of Africa Night. If it does not work we will be willing to revert back to what people are used to. We are however confident that you will love the new setup if given a bit of time and chance. The musical journey through Africa just got even better! The aim is to guarantee you more fun and more dance pleasure during Africa Night.
Watch out for more innovations and additions this year. We are just starting! Let us all welcome DJ Sam on board. Come to Africa Night Tilburg and give him some love too! Join the event on Facebook by clicking on the following link —> www.facebook.com/events/1413888922185263