Wij hebben in het kader van het 20 jarig bestaan van Africa Night elke maand tot en met juni 2018 een aanvulling voor de gasten.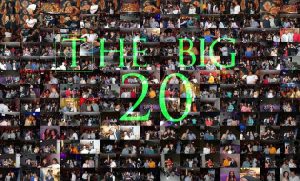 In maart is er zelfs een eenmalige extra Africa Night in de locatie waar het allemaal ooit begonnen is; op De Boot! Kortom in maart heb je Africa Night Belgium (3-3-2018), Africa Night Tilburg (17-3-2018) en de eenmalige "Back to the Roots" Africa Night De Boot (31-3-2018!) Zie africanight.nl/deboot voor de details!
One time Back to the Boat Reunion Party!

Africa Night turns 20 in May and we are throwing an extra one-off party at the place where it all began in 1998; The Boat! What's more, everyone will get the a copy of the Africa Night Freemix CD 2006 which was the year Africa Night left The Boat! This one-off party is on Saturday 31 March 2018 –>https://www.facebook.com/events/1748032851913870/<–

Geplaatst door Africa Night op Maandag 29 januari 2018
Er is gratis Afrikaans eten (geen snacks!) tijdens de regulaire Africa Night Tilburg in Horeca T Kwadraat op 17 maart 2018!
In april is er een speciaal cadeau voor 20 mensen tijdens Africa Night Tilburg in 21 april!
19 mei 2018 wordt Africa Night 20! Echter omdat het tijdens de ramadan valt, gaan wij het even klein vieren met een aantal verrassende elementen. In juni gaan wij het groots vieren!
Op zaterdag gaan wij groots uitpakken! Het programma wordt as we speak samengesteld, maar er is zijn een aantal live shows en nog veel meer. Houd deze website en onze Facebook pagina in de gaten.
Wij gaan de 20ste verjaardag van Africa Night op een bijzondere wijze vieren!