6.  This edition is the perfect example of what happens when Africa Nighters are determined to have fun. What a noise and atmosphere the guests created. They took control of the venue, owned and bossed it! And we are glad Africa Night is becoming a place to go when one is celebrating their birthdays or other important milestones. Moergestel looks like it is here to stay. Fingers crossed!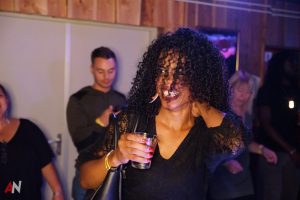 5. For those who have been following Africa Night for long, the location in Moergestel reminded them of Party Centrum Oase which many regarded as the best ever location of Africa Night. De Steeg actually feels like a smaller version of Oase. And judging from how the first edition went down, people are going to have loads of fun in Moergestel too!
4.  The dance floor is lit. Literarily too! And to some guests, it looks familiar too. That is because many have seen that same dance floor with nice changing lights before about 4 or 5 years ago at 't Kwadraat, the former venue of Africa Night Tilburg. The owner of the new venue in Moergestel used to run the venue in Tilburg. Aha! So when he took over this new place, he brought it with him. Many who came for this edition really liked this dance floor!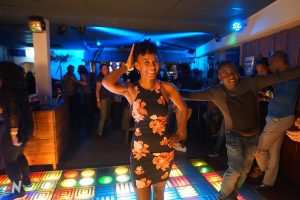 3.  Africa Nighters seemed to have quickly made the time switch. One of our fears was how grown-ups were going to react to going out to the club on a Saturday night at 19:00 hours and going back home at midnight. Going out at that time felt like what 13 year olds do and are under their parents' instructions to be back home before midnight. Guest arrived relatively on time, did what they always do and danced and partied like they were actually 13 year-olds without any care in the world. Maybe that was why everyone looked younger when they left than when they came in! True, you all looked at least 10 years younger at the end of the party. So it is a time slot that is not as bad as it initially felt.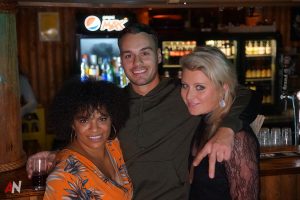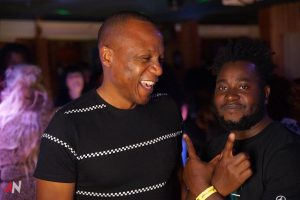 2.  Men are much slower, less brave and adventurous in everything than women! Women outnumbered men during this party by almost 3 to 1. This is because a lot of the ladies heard that Africa Night was going to be back, in a new location, were immediately curious, wanted to shake their bodies again after 18 months and booked their tickets online. The men on the other hand spent loads of hours of several weeks texting the organiser of Africa Night asking questions that were sometimes very funny to say the least. Then at the end saying first they have to see how the first edition will go first before they would decide if they would come the next time! In other words, the men wanted to wait and watch what other people (women of course!) will do before they are brave enough to take the small step! Men, you missed a lot! But women showed during this edition that they can, and will have fun without you. Hahaha. 🙂
1.  No matter what, some people will always be loyal and supportive of Africa Night. When one looks at some of the people who showed up in De Steeg for Africa Night you see some who have supported Africa Night from the time it was at the Boat. A couple more started coming when Africa Night moved to Bosvreugd or joined the party at Oase or 't Kwadraat. Many of these people have travelled with Africa Night to other cities in The Netherlands, Belgium and even Germany. There were people during this reboot who could have been somewhere else. These people are the backbone of Africa Night. It is one of the reasons the organiser did not quit or lose faith during the long break caused by the Corona-pandemic. Some of them were the ones who called to ask how one was doing and kept lifting one's spirit when necessary. To all of these people (and you know yourselves) I just want to say, I am because you are. Ubuntu!